The Women of Villainy
In episode 133, we introduce a new series called 'The Women of…' where we look at different genres, fandoms, and areas, to explore the women in them. A randomizer picked 'Villainy' out of all of our potential topics, and Heather and Liz had much to say. In fact, we determined that all female villains fall into 1 of 2 categories:
Evil Through and Through with no redeemable qualities
Justifiably homicidal, she has reason to be why she is the way she is.
So as we explored each villain, we judged them as being 'Justifiable' or 'Pure Evil'. There is a villain that Liz considered so irredeemable she dropped the c-word numerous times to describe her. Curious? Listen in.
This week's promos:
Support the Show and Pick Our Topic!
Want to support the show AND get your chance to choose our topic? Patreon contributors can now send us their pick of topic (or movie, book, etc) and we will hold a monthly drawing and pick out a patron topic to cover on the show! You must be a current patron for your selection to be picked. We will, of course, shout you out on the show when we pick your topic! Contact us through Patreon or at contactus@nerdybitches.com to pick your topic! For as little as $1/month, you can throw in a topic, get early access to episodes, and get Patreon-exclusive content! We also have some pretty awesome rewards above that level! Hit is up at parteon.com/nerdybitches to check it out and sign up TODAY!
Spray The Bitch Away with Frankie & Myrrh!
We are excited to announce that we have a new business partner in the world of aromatherapy! Go check out Frankie & Myrrh at NerdyBitches.com/Frankie&Myrrh and check out their amazing products! Spray the Bitch Away is our new favorite thing!! Use coupon code NERDYBITCHES for 15% off your order!!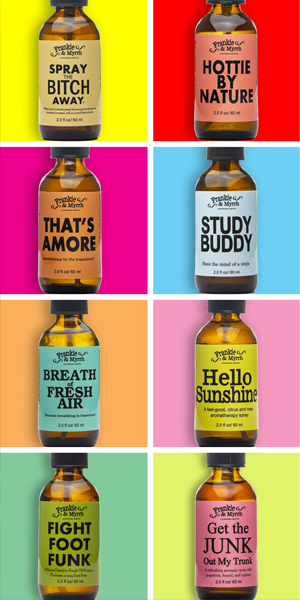 Podcast: Play in new window | Download
Subscribe: Apple Podcasts | RSS